Target Brand Diapers HOT SALE This Week!
Grab some Diapers at Target this week with this savings!  Stock up on different sizes you may need at home, for diaper bags, or travel!   This week Target has a HOT sale going on!!
Don't spend the extra money on Huggies or Pampers this week if you are shopping for diapers!   We have a hot deal for you at Target on their Up & Up Brand Diapers!   Pampers this week would cost you $33.99 per box if you were using a coupon and gift card promotion.   However you can score diapers cheaper then that!   This week Target is offering a $10 coupon when you purchase two boxes of  their up and up brand diapers!  Purchase either in stores or online to get this deal!  However, sizes may be limited in stores!   Make your purchase of the diapers FIRST so you get your $10 gift card, then purchase any other items you have in your cart for cheap using the gift card for this purchase!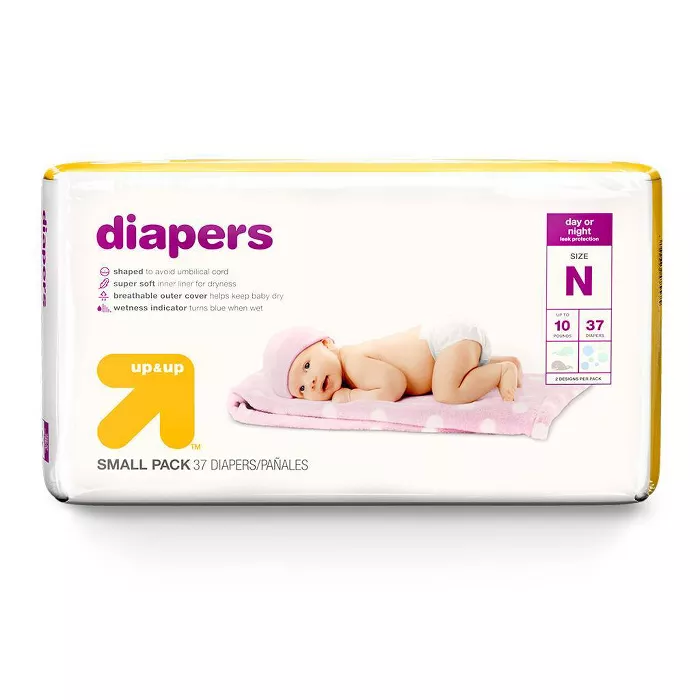 Diapers - up & up™ - (Select Size and Count)
as of May 19, 2022 4:54 PM
up & up™ size newborn and size 1 diapers are shaped to avoid your baby's umbilical cord while offering day or night leak protection. With a super soft inner liner and a breathable outer cover, up & up™ diapers help keep your baby dry! Each diaper is free of latex, lotion and fragrance, and features a wetness indicator that turns blue when wet. With soft and stretchy waist and sides, up & up™ diapers feature a super soft liner clinically proven gentle on skin.WARNING: to avoid danger of suffocation, keep this and any plastic bags away from children and pets. To avoid risk, do not allow your child to play with diaper packaging. Choking can result from anything children put in their mouths. Discard any torn or unsealed diaper. CAUTION: Like most clothing, diaper will burn if exposed to flame. Always keep your child away from any source of flame. PLEASE: Before disposing, shake soil into toilet wrap diaper tightly and discard in waste receptacle. DO NOT FLUSH. PLEASE DO NOT LITTER. IF you notice a small amount of gel-like material on your child's skin, don't be alarmed. This comes from the padding and can be easily wiped away. Diapers should not be worn in swimming pools as they will absorb water and become very heavy.