Rubbermaid Easy Find Lids Set Online Savings
IMPORTANT!
NEVER MISS ANOTHER DEAL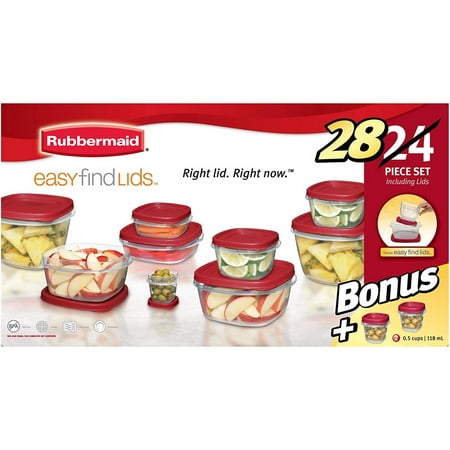 -56%
Last update was on: December 21, 2021 1:20 PM
Do you need a better solution for your food storage needs or to perhaps reduce clutter in your cupboards?If you're tired of digging around for lids, the Rubbermaid Easy Find Lids 28-Piece Food Storage Set is for you. Save time and space with this super convenient food storage set. Organizing your kitchen just got easier. The ergonomic design takes up less space in the fridge, freezer, and cabinets by having bases & lids that nest inside each other with a one lid fits multiple bases design. Rubbermaid food storage containers are ideal for keeping food fresh longer. Store and prepare food more easily and quickly. The 28 piece set (including lids) contains: (4)0.5 Cups; (2)1.25 Cups; (2)2 Cups; (2)3 Cups; (2)5 Cups; (2)7 CupsCook large batches of rice, vegetables and protein for the week ahead and store them in the Rubbermaid Easy Find Food Storage Set for quick and simple "grab and go" meals. The super-clarified bases are made from BPA-free plastic. Best of all, all components are dishwasher, microwave, and freezer safe.
Check out the Walmart Hack to have Clearance SHIPPED TO YOUR HOME!