Target Gift Card Offer!
Snuggle Plus Fabric Liquid Softener is a amazing deal right now at Target!  You can now combine offers to score this deal cheap!  If you need to stock up on Fabric Softener, check out this HOT deal available from Target below!
Check your local stores for this deal!  And don't forget with the gift card offer you can mix and match other items if your store doesn't have the correct amount you need to purchase!   Right now when you purchase THREE Snuggle Plus Fabric Softeners you can use a 20% discount offer PLUS you get a $10 Target gift card!   Usually just one of these bottles would cost $7.99 but when you factor in these offers you can get three bottles for just $3 EACH!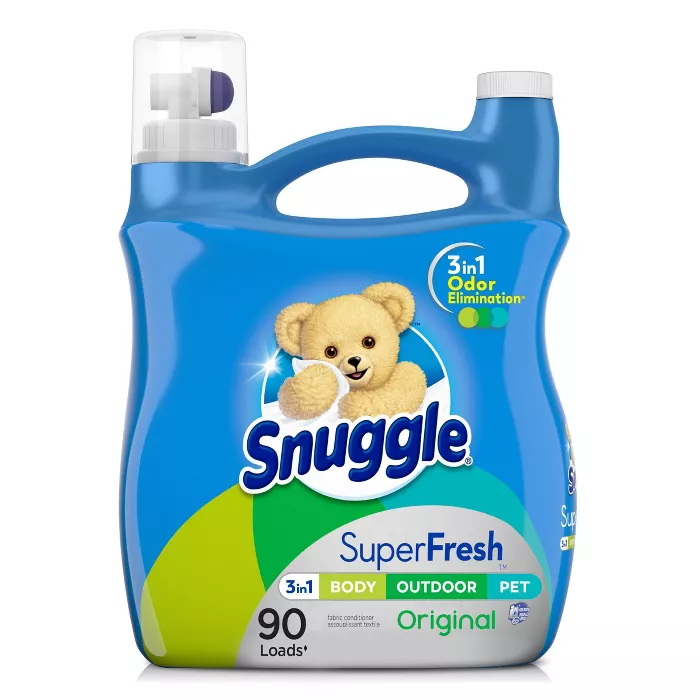 Snuggle PLUS SuperFresh Liquid Fabric Softener - 95 fl oz
as of May 27, 2022 6:13 PM
Highlights
Snuggle Plus SuperFresh features the Snuggly softness you love, plus odor eliminating technology. It doesn't just mask tough odor, it helps eliminate it and releases Snuggly freshness.
Snuggle Plus SuperFresh is the first-ever odor fighting regimen with liquid fabric conditioner, dryer sheets, and freshness boosters designed to help eliminate tough odor and keep your favorites fresh.
For a top loader washing machine, add Snuggle brand liquid fabric softener during the final rinse cycle or use an automatic dispenser for added convenience. To avoid spotting, do not pour Snuggle directly onto clothes. For a front loader machine, add Snuggle brand liquid fabric softener to the built-in fabric softener tray that is often placed to the right or left of the detergent tray.
Safe for standard and high efficiency (HE) washing machines
Includes one 95 oz bottle of Snuggle SuperFresh Original liquid fabric softener, enough for 90 loads.